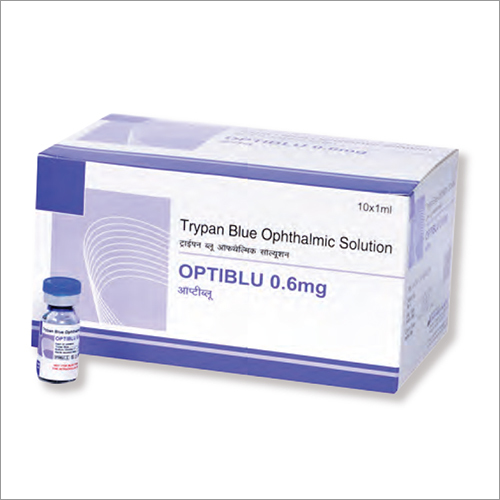 Product Description
Trypan Blue OptiBlu , (Trypan Blue Ophthalmic Solution 0.06%w/v)
Our customers can avail from us comprehensive range of Trypan Blue Ophthalmic Solution widely used in the hospitals in Opthalmic devices. They are used as tissue staining and are easy to wash. These products are manufactured by the team of our talented researchers who make every effort to offer high performing and reliable products. These Trypan Blue are also available in pre-filled syringes. We offer best deals at nominal prices.
Features and specifications :

0.6 or 0.8 mg/ml Trypan Blue
Excellent tissue staining
Easy wash off
Available in a 1 ml vial/ampoule/pre-filled syringe.
FOR ENHANCED VISUALISATION OF
ANTERIOR CAPSULE
INNER LIMITING MEMBRANE (ILM)
EXTERNAL LIMITING MEMBRANE (ELM)
Sterile, pyrogen free solution of Trypan Blue
Indicated for staining of ocular tissues during capsulorhexis and during retinal surgery
Reduces risk of complications due to inadequate visualization of the membranes
Available in 1ml Prefilled Syringe OR Vial
Very low volume required for staining
Instantaneous staining
Easy visualization of ocular tissues
Convenient wash off